The #1 question we receive from clients is: What is the difference between granite and quartz?
We know better than anyone – let's start with the basics …
Granite is a 100% organic material, sliced whole from a quarry and polished to smooth perfection. Each slab is chosen for its unique beauty, and no two are ever alike.
Quartz is created from high quality stone, usually containing about 93% quartz, which has been broken down and bonded back together with a powerful resin. This results in a fine, durable finish.
No matter what stone you choose for your next project, quartz and granite will both make a great additions to your home, and increase its overall value!
Why Should You Replace Your Countertops with Stone?
Stone countertops are an investment, and one worth making! Your kitchen is the heart of your home – it is very important that your countertops be easy to clean, simple to maintain, durable, and of course: stylish!
There is no substitute for the timeless and dramatic effect that can be achieved by adding a stone accent to your kitchen. Well maintained stone will provide outstanding beauty and performance for decades to come.
With our extensive granite and quartz selections, we can help you create the kitchen of your dreams!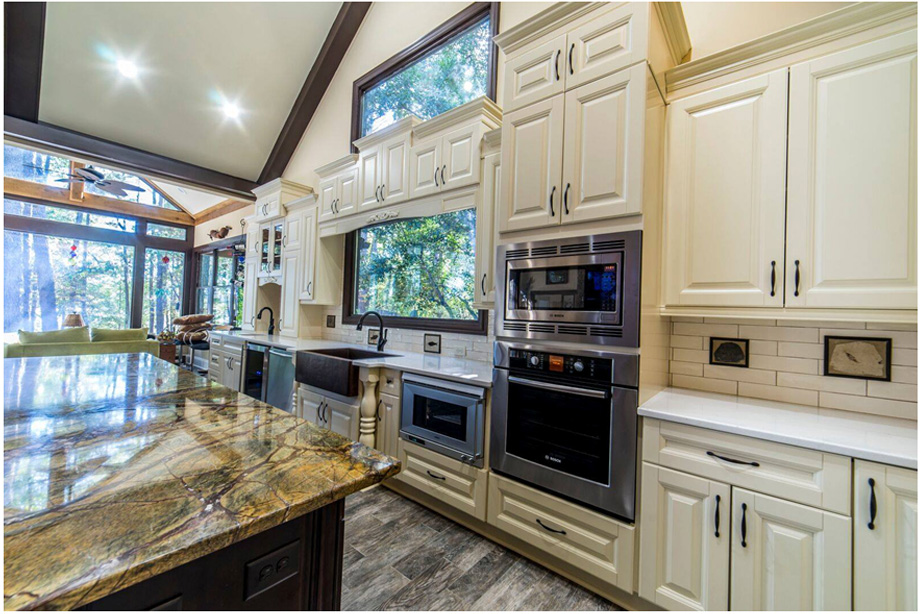 More About: Quartz
Quartz countertops are sleek and stylish!
Since quartz is a composite of stone and strong resin, it is non-porous, glossy and smooth. Added color pigments can make quartz more vibrant than anything found in nature.
Avoid exposing your quartz to prolonged UV radiation, as well as extremely hot items, as these can warp the appearance of your quartz. Always use hot pads for hot items! However, it is highly resistant to scratches and cracking. Quartz is one of the most flexible and durable options available.
Our In-Stock Quartz Specials for May 2019 run as low as $39.99 per square foot, installation included! Come on in to check them out!
More About: Granite
Granite countertops are elegant and luxurious!
Natural stone varies in appearance from bold patterns and rich colors, to simple, classic designs. No two granite countertops are ever exactly the same, giving your home a unique look that is all your own.
Granite is formed out of volcanic rock, and is one of the hardest substances in the world – ideal for a kitchen that sees a lot of use. Stone that has been properly cared for is highly resistant to scratches, stains, and heat. Because natural stone is porous, your granite countertops will need to be sealed. We use a 1 Year Sealer on your new granite free of charge, but longer term sealants are available upon request!
Keeping your granite clean is a must, as stains can occur if left to sit for too long. Bleach- and ammonia-based cleaners will wear down the sealer, and potentially damage your granite – but safe alternatives are as easy as soap and water. We also carry a cleaning solution that is specifically made for granite countertops!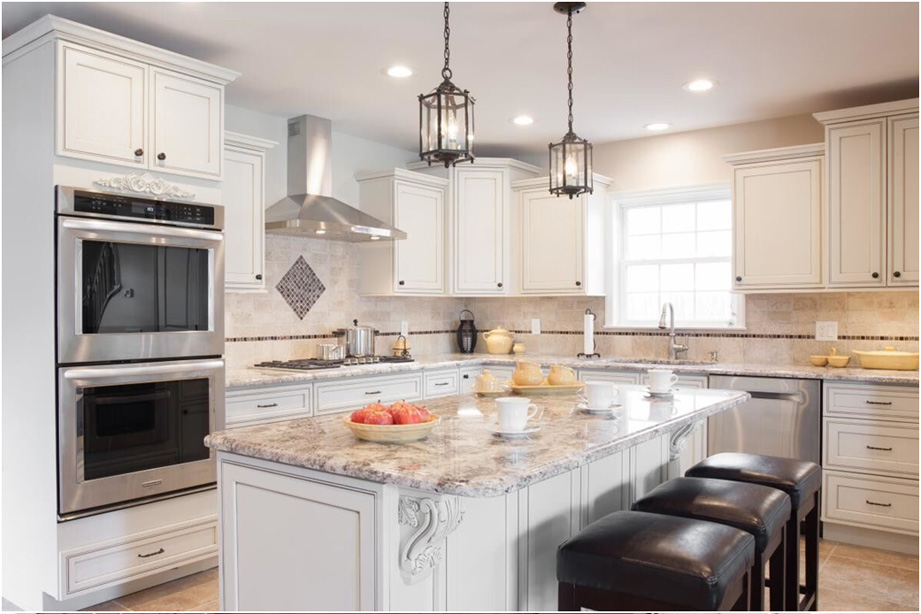 Our Granite countertop options start at $29.99 per square foot, installation included! Visit our Indianapolis Showroom and see our wide variety of on-site Granite!
Visit Us Today! www.cabinetstoneexpo.com
As with any material, the choice between quartz and granite is a personal preference. Some people are searching for the natural feel and unique character of granite, while others are looking for the crisp, uniform beauty of quartz.
All stone countertops should be fabricated and installed by professionals. Come by our showroom or contact us at info@cabinetstoneexpo.com for more information, and a free quote! We have stone that fits your style and your budget!
We look forward to helping you build the kitchen your home deserves!